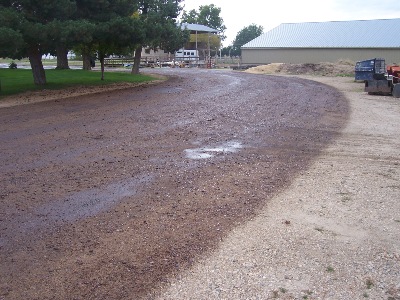 Earthbind is a quality, versatile, dust control agent. Earthbind can be applied to roads and other environments where airborne dust is unwanted. In addition to suppressing dust, Earthbind can be used to reduce soil erosion and protect vegetation from blowing sand.

Earthbind consists of binding agents that hold soil particles together and prevent them from becoming airborne. This special formula ensures that application will properly penetrate and bind with the soil.

Earthbind is an emulsion that is manufactured in Oregon. This is an environmentally friendly product that has been in used in the Western states for many years. All environmental test results for this product are available. This product is applied to a dry road so no pre-watering is needed. Heavy application for this product is 0.40 g.s.y. and light application is 0.30 g.s.y. After curing this product will shed water from the surface and will not track. It will help seal and stabilize recycled asphalt. We have been using this product for the past three years for Boise schools, the V.A., City of Middleton, City of Stanley, Idaho Aeronautics and is our preferred product for our residential customers.